Setup a website where tutors can run paid live video seminars, presentations, conferences, eLearning rooms and broadcast these live conversations.
Update: See the HTML5 Expert Consulting Site Solution – Paid Videochat 
Moderators setup their rooms, prices and see subscribed clients:
These room links can be manually sent to students (clients) or added to a site/page for clients to get to the room page.
Students (clients) can buy access to presentation rooms:

After buying access they can enter the room: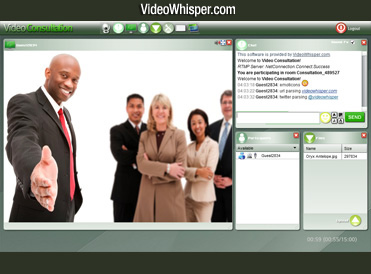 Moderators control what participant is displayed on main screen (speaker) and can also add an additional participant (inquirer) or more to ask questions or assist. Moderators can also show presentation slides and other streams (live or recorded/vod) on main screen.
Participants can change their public status (i.e. request to speak), upload and download room files, text and video chat depending on setup permissions.
Project Requirements
WordPress
WordPress Video Presentation plugin

Can be used in FREE (limited) mode.
 Price:  $350/purchase or $35/month rental (optional for full mode)

Compatible Web and RTMP Hosting

Wowza RTMP hosting required for live streaming and  iOS support.
Web hosting compatible with WordPress.
FFMPEG and latest codecs on web host, required for transcoding.
Recommended: VideoWhisper Wowza Hosting starting from $50/month.

WordPRess myCRED plugin to allow students to buy room access using credits from:

PayPal Standard
Skrill (Moneybookers)
NETbilling
Zombaio
BitPay (bitcoin)

 s2Member plugin to enable paid membership, tutor roles (FREE for use with PayPal).
A nice WordPress Theme .